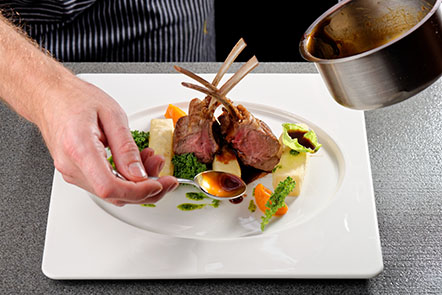 Crafting a perfect, delicious dish not only requires fresh ingredients and superb skills, it also relies on a precise and powerful cooking appliance. "Culinary Demonstration" is a live cooking demonstration series hosted by our in-house master chef. It will help you select the ideal Miele built-in appliance to assist you in creating mouth-watering worldwide cuisine.
At our Miele Experience Centre, our chef will demonstrate how to cook two tempting dishes using one of three cooking techniques: Baking, Steam-baking, Steaming with Sous-vide. During each one-hour session, you will have the opportunity to experience the unrivalled performance of Miele cooking appliances and indulge in a tasting session. If you are looking for new cooking appliances for your kitchen, come and explore the versatile functions and usages of our cooking sets.

Attend a free demonstration on one of the following dates:
Date: 9 Jan (Thu)
Time: 3:00 - 4:00 pm
Dishes - Steaming with Sous Vide​:
Sous vide Hainanese Chicken served with Seasoned Rice
Bak Kut Teh
Date: 11 Jan (Sat)
Time: 12:00 - 1:00 pm
Dishes - Steam-baking:
Black Truffle Spanish Glutinous Rice Roll
Sichuan-style Steam-baked Grouper
Date: 16 Jan (Thu)
Time: 3:00 - 4:00 pm
Dishes - Baking:
Roast Sirloin Beef
Sourdough Bread
Venue:
Miele Experience Centre
G/F, Lee Garden Six, 111 Leighton Road, Causeway Bay, Hong Kong
Tel: 2890 1018
Event Registration
By invitation only.
Please contact our sales team for event registration at 2890 1018.
*Registration is considered successful upon confirmation by our sales team only.