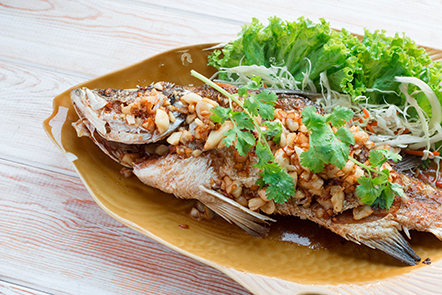 Miele Steam-baking Cooking Workshop
Have you experienced the benefits of combination cooking yet? Miele's steam combination ovens not only offer bake and steam settings, but also include a more sophisticated cooking method: steam-baking.
In this special cooking class, you'll learn how baking with steam makes it easy to prepare food that's succulent on the inside and crispy on the outside. To discover more about this technique, we invite you to our Steam-baking Cooking Workshop. During this fun, hands-on session, you will prepare two savoury dishes under the expert tutelage of Miele's in-house chef. He will show you how different temperatures with moisture setting (0% to 100%) can make the best cooking results while sharing his secret cooking techniques.
Come and explore this state-of-the-art cooking method, and learn new skills to delight your family and friends with your own feasts at home!
Dishes
Thai-style grilled whole marble goby fish 泰式燒原條筍殼魚
Thai-style chicken wings stuffed with glutinous rice 泰式糯米釀雞翼
17 Jul 2018 (Tue)
From 2:30pm to 5:00pm (Cantonese)
G/F, Miele Experience Centre, Lee Garden Six, 111 Leighton Road, Causeway Bay
HK$900 per person
Includes ingredients for all dishes
Free of charge for Exclusives members with a Miele event entitlement
Registration & Enquiries:
3755 3287
~~~~~~~~~~~~~~~~
About Chef Chan Wing Kuen
With more than 20 years of cooking experience on Asian and European cuisines, Chef Chan Wing Kuen is appointed as the in-house chef of Miele. Prior to this assignment, Chef Kuen was the head chef at the acclaimed FINDS restaurant, Hong Kong's only Scandinavian eatery, for nine years. He is renowned for his skill in entwining the European dining experience with traditional Asian culinary values to craft truly modern classics and delicacies. His talent was further recognized by obtaining the 5 Star Gold Award at the Hong Kong Masterchef Competition in both the Best Healthy Dish and Best Main Dish categories in 2012. Chef Kuen's passion and innovation on culinary creation enable him to share his wealth of knowledge with guests and to show them a variety of cooking skills.
For any inquiry and reservation, please feel free to contact +852 3755 3287