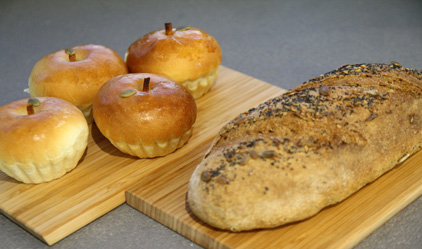 Home baking lets you enjoy food free from additives and preservatives, ensuring a healthier lifestyle for you and your family. The Miele Baking Club hosts hands-on classes every month to promote this natural approach to eating, with expert instructors demonstrating how to create nourishing, delicious bread.

At the November workshop, master baker Victor Lo, from The Mixing Bowl studio and café, showcased two types of artisan bread: an everyday, multigrain sandwich loaf, complete with a scrumptious, home-made avocado dip, and apple & custard buns, which are splendid served for afternoon tea.

First, Victor led guests in mixing and kneading the multigrain dough in three key steps to allow gluten to develop properly – stretching it out, folding and turning it, and repeating this until the dough becomes elastic. After letting the dough proof, guests added seeds for flavour and brushed the loaf with water before sprinkling extras on top.

Victor explained that the secret to a perfectly risen loaf with a crunchy crust is having enough moisture in the oven before baking. The "Moisture Plus" function on Miele ovens is ideal for this, and lets you add steam automatically or manually, creating a wonderful, satisfying crust.
To enrich the flavour of the sandwich loaf, Victor showed how to make an avocado spreadable dip, which was nutritious and moreish – further awakening taste buds around the room. Once the sandwich loaf was in the oven, guests moved on to the apple & custard buns. The key to these delightful treats, as Victor demonstrated, is not overstuffing the centre of the dough with filling, which prevents them from closing properly. The guests had a wonderful time moulding the buns into apple shapes before adding a pretzel twig stem and a pumpkin seed leaf.

After baking the buns, guests took away their creations to enjoy them with their families, and Victor had thoughtfully prepared extra portions of the day's bread and dip for guests to taste.