Miele opens state-of-the-art Experience Centre – In Causeway Bay to celebrate its 20th anniversary in Hong Kong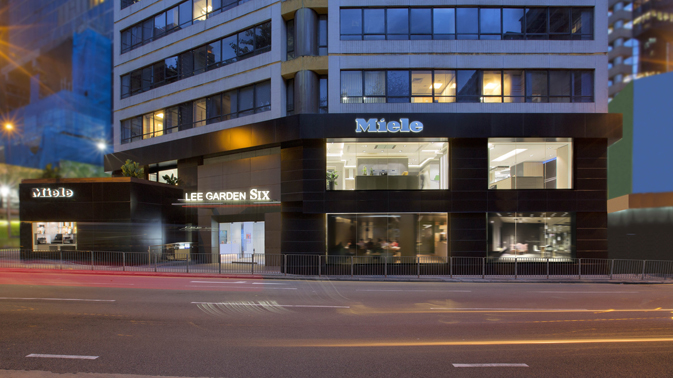 (2017 – Hong Kong) In celebration of its 20th anniversary in Hong Kong, Miele, the global leader in high quality domestic appliances, opened its Miele Experience Centre in the epicentre of the premiere shopping hub of Causeway Bay. With a vision to build an engaging, consumer-centric space, the 350 square-meter, two-story flagship store is a visual catalogue of sophisticated craftsmanship synonymous with the brand. Designed to educate and inspire culinary and design enthusiasts, the MEC allows customers a new way to view, shop and experience Miele's largest spectrum of built-in and free standing appliances.
Founded over 100 years ago in Germany, Miele is today the world's largest family owned and operated kitchen appliance manufacturer. Renowned for their enduring passion of exceptional quality appliances, premium design and evolving innovation, the Experience Centre is set to showcase the Miele lifestyle as visitors migrate through the zones of its product categories. The ground level is dedicated to freestanding homecare products, Laundry and Floor care to Coffee culture. Ascending to the first floor, customers will be fully immersed in the Miele lifestyle that unfolds to reveal key areas of the Cooking Parade, Steaming area, Cooling area, four Design Kitchens and a declaration to the Active Kitchen. The Active Kitchen is set to be the main feature attributing the experience of built-in appliances that inspire and ignite all things culinary.
Mr. Kenny Lam, Managing Director of Miele Hong Kong and Macau remarked: "The Experience Centre is a remarkable milestone in Miele's portfolio in Hong Kong. One of the key elements in Miele's growth strategy is to deeply engage its consumers with positive experiences shared through the Experience Centre which aims to be a driving innovation in experiential sharing, learning and growing together with the brand."
In creating value for customers and impacting their passion and skills in culinary experiences, Miele has brought on board Miele's In-House Chef, Chef Chan Wing Kuen, to lead on all the cooking workshops and demonstrations at the Experience Centre. With over 20 years of cooking experience, Chef Kuen was the former head chef at the acclaimed FINDS restaurant, the only Scandinavian eatery in Hong Kong, for nine years. The Experience Centre will successively stage engaging workshops to showcase the brand's differentiated technology and performance.
Experience Centre Lifestyle Events
In its continuous commitment to enhancing the overall user-experience, Miele is to offer weekly cooking demonstrations utilising different cooking techniques. Private cooking demonstrations will also be provided by appointment. Other events including Sous Vide Cooking Workshops and Baking Classes will allow customers to become acquainted with the unrivalled performance of Miele cooking appliances.
.
For more information, please visit:
Miele Experience Centre (MEC)
G/F and 1/F, Lee Garden Six, 111 Leighton Road, Causeway Bay
Tel: 2890 1018
Download as PDF
Download including media (zip)