Which accessories are right for my product?
All product benefits at a glance - Laundry Detergents
Highlights
Cleaning performance
Cleanliness for comfort
Efficiency and sustainability
Gentle laundry care
Maintenance
User convenience
UltraPhase - Designed to achieve the best washing results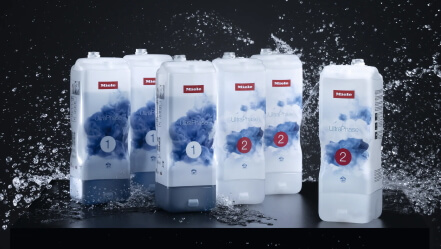 Miele has revolutionised laundry care: its 2-phase system produces a cleaner and more thorough washing result than conventional liquid detergents that do not contain bleaching agents, as these would destroy the other ingredients.Separate storage and dispensing of Miele UltraPhase 1 and 2 allows the use of bleaching agents in the TwinDos® system.
Learn more
Cleaning products at a glance
Subject to technical changes; no liability accepted for the accuracy of the information given!
Please note that Appliance Networking accessories and Alexa features are currently not available in Hong Kong.